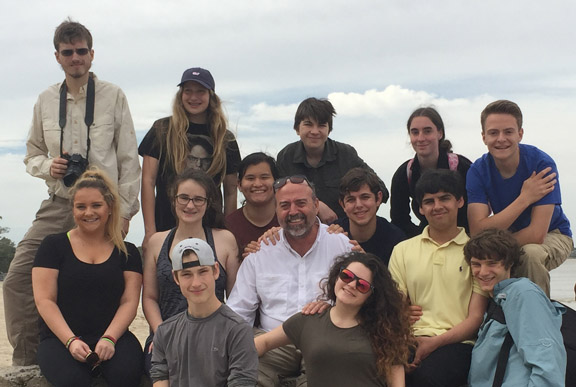 Is your child unhappy with high school? Does your teen mope around the house and dread going to school? Are grades slipping? Is your teen getting in trouble for missing class? Perhaps your child is painfully shy and is miserable in the large school environment. Or maybe your teen is getting teased for being different and not fitting in.
Palo Alto Prep can save your teenager!
When I opened Palo Alto Prep in 1987, I relied on five basic learning principles related to the ways kids actually learn.
All students can succeed!
Students need to understand what makes them learn. We emphasize their areas of strength and find creative ways to overcome areas of challenge or fear. We create small successes and build on them, which fosters the self esteem required to take bigger risks later. Teenagers want to learn; however, they can't learn if they cannot connect with what they're being taught. Our staff creates that connection for each individual student.
Learning must be fun!
Tell this to most teens and they think you're nuts! At Palo Alto Prep, learning is fun. Students are expected to work hard; at the same time, we have found a way to help them enjoy the process. Laughter is contagious and heard often at our school.
Teenagers must like their teachers!
Our staff is youthful, motivated, and "clued in." In fact, three of our teachers are Palo Alto Prep graduates! Our teaching team works together to understand and connect with the needs and concerns of the students and to see things from their point of view. Palo Alto Prep teachers believe in each and every child's ability to succeed, and they create an environment where students thrive.
Teenagers are enjoyable to be around!
Our staff likes teens, and this is especially important because teens always sense it when they're not appreciated. We enjoy the daily camaraderie with the students. We expect to learn from them as well as teach them, and it is this reciprocal relationship that fosters respect and enthusiasm.
Teenagers learn much more than just academics in high school!
Most teens that are not happy with their educational experience just shut down and give up. They need to learn to re-like themselves. Palo Alto Prep does this by increasing their sense of self esteem, making them take responsibility for the rewards, results, and consequences of ALL their actions. We develop pro-active individuals who leave high school with a plan. They become contributing members of society.
I would love to talk with you about how we can help your son or daughter. Many of our parents have said to me, "Thank you for giving me my kid back." That is why Palo Alto Prep exists. That, in and of itself, is our gratification.
Christopher Keck
Director and Founder
Call:  (650) 493-7071
Changing Lives, Redefining Education
"My son has attended Palo Alto Prep for 3 years and will graduate in June. The teachers and staff at the school have always made it a wonderful school and community for the students and parents. My son has thrived there. 
In early 2012, the school moved to a beautiful new facility. They kept the same "beehive" atmosphere in the way they constructed the hallways and classrooms with windows. It's impossible to isolate yourself there. The students have a big rec room to congregate in but they also gather in a wide spot in the main hallway before school, at lunch and after school. It is so social, cheerful and inclusive. It's a joy to walk through the crowd!
I can't say enough good things about this school. They are there for the challenges and the celebrations with tons of support!"
Mary Buxton